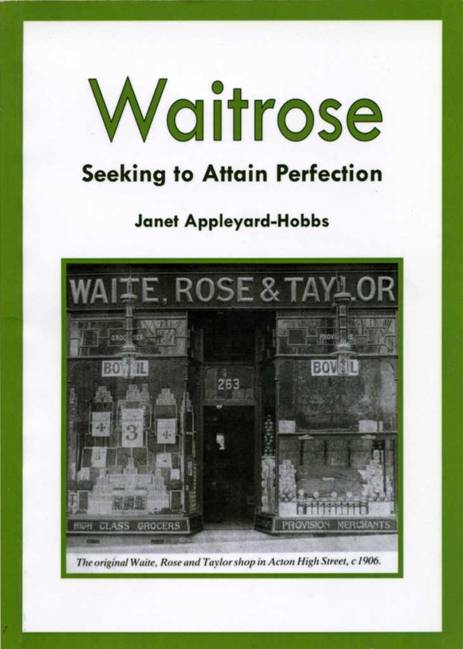 "Waitrose - Seeking to Attain Perfection"
ISBN: 978-0-9552343-1-6
by Janet Appleyard-Hobbs
Acton History Group have been researching the different aspects of Acton's history for many years. This booklet on Waitrose follows a very successful evening the Acton History Group organised in February 2005, featuring a talk by Janet Hobbs's on 'Mr Waite, Mr Rose and Mr Taylor in Acton' and the unveiling of the plaque to mark the site of the first Waitrose shop. 'Seeking to Attain Perfection' was the motto or slogan used by the first Waitrose shop in its advertisements at Christmas 1908.
Shopping was an important part of life in Acton in 1904. It was a time of great change along the High Street. The Fire Station had not long been opened, the new Woodlands Park and Crown Street had recently been created and the group of buildings rising up Acton Hill, just opposite today's police Station, had only just been built. So the new shop in this parade was all set to be an asset in this area of town. It was not long before more Waitrose outlets appeared in Acton, now Waitrose is a household name across the country.
Copies available by post at a cost of £7.00 from Acton History Group,11, Lynton Terrace, Acton, London, W3 9DU. Cheques payable to "Acton History Group"
"Tin Hats, doodle bugs and food rations"
ISBN: 978-0-9552343-0-9
Hot off the press – your chance to snaffle up a copy of this Acton History Group publication.
"Tin Hats, doodle bugs and food rations" tells the story of Acton and Acton people throughout World War 2. It's packed full of photos, many never published before, and anecdotes, as well as well-researched historical facts. Covers the build up to war, through the blackout, bombing, evacuation, rationing, wartime production to the Victory celebrations in 1945.
Copies available by post at a cost of £7.00 from
Acton History Group, 6 Acacia Road, London, W3 6HF
Cheques payable to "Acton History Group"
"Acton Pump Cook Book"
A revised edition by Sheila Rees. Copies available by post at a cost of £5 + p&p
email to Acton History Group
Cheques payable to "Acton History Group"
Acton cards
Local artist Colin Bays has created a set of four cards featuring various architectural highlights of Acton. Two of them show gems of Churchfield Road: the Almshouses and The Churchfield pub. Notes about the building's history are also included on each card. Further details: blank interior, A5 folded, envelopes included. Each set costs £4.00, 40p of which will be donated to the Acton History Group.

If you would like to buy these cards, contact the David Bays, Acton History Group, on 020 8992 0287 or bayscolledge@talktalk.net
| | |
| --- | --- |
| | |
| The Almshouses East Churchfield Road | The Churchfield (now The Station House), Churchfield Road |
| | |
| Old Acton Fire Station, Acton High Street | Acton Library, Acton High Street |
actonhistory.co.uk has created a pair of large glossy postcards each featuring four Acton scenes in about 1905 and a similar view in 2012. Notes about the scenes are included on each card. Further details: blank back, A5 sized, envelopes included. Each set costs £1.50, and the profits will be donated to the Acton History Group.

If you would like to buy these cards, contact the David Bays, Acton History Group, on 020 8992 0287 or bayscolledge@talktalk.net
| | |
| --- | --- |
| | |
| | |